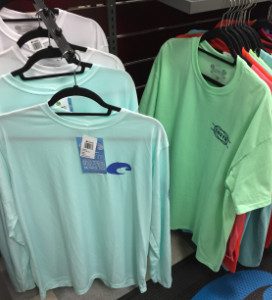 We offer a wide range of apparel, sunglasses, and sun/insect protection to meet your needs as you head out on the water or to the beach.
Our apparel selection includes brands such as Costa, Bemini Bay, Southern Attitude, Kerusso and more.
We offer an extensive selection of sunglasses by popular brands including Costa, Calcutta, Bemini Bay and Seastriker. Sunglass retainers by Cablz.
We also carry a variety of coolers including Coleman, Engel and Orca as well as Orca Chasers and Covo Tumblers to keep your drinks cold.
Our large variety of sunscreen and insect repellent for adults and children include top brands such as Bull Frog, Coppertone, Thermacell and Cactus Juice.
We also carry marine and trailer parts to do all the necessary maintenance and repairs before you go, and don't forget your instant fishing license and life jackets for the whole family before heading out for a fun day on the water.